INTRODUCTION
Why midis?
Getting around


LINKS
Other music sites Friends


CREDITS
Thanks and supports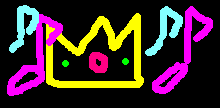 Hi, this is the all new and improved Musical Palace. I had created this site since 1996. The design of this place has been changed a few times over the years.
Anyway, I'm Gladys J Chang, age 14(D.O.B 15th January 1986). I live in Kuala Lumpur, Malaysia.
Well, this Musical Palace consists midis from A to Z, including numeric. Feel free to browse through but please ask permission before using any of the midis. All the midis here are mainly for listening pleasure and usage of it would be discouraged. Like I said, please ask me if you want to use it for your homepage or whatsoever.
Hope you'll enjoy your stay! If you have trouble getting around, please read the 'Getting Around' in the Introduction section. Don't forget to sign the guestbook!!! I would like to hear some suggestions and comments, because it's totally necessary for improvement in this website. Oh well, have fun anyway!!!
Last updated 15th February, 2000.


These are the latest updates. Check it out!

Midis
A whole new collection of midis. Arranged in alphabetical order.
Latest hits, etc.(15th February, 2000)